Posts for: August, 2014
By Royer Family Dentistry
August 20, 2014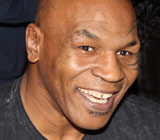 Mike Tyson's gap-toothed smile is part of athlete-turned-celebrity's signature look. During his two-decade career as a professional boxer, the former heavyweight champion has been known for both giving — and occasionally receiving — knockout punches. But the story of how he lost one set of front teeth is a bit more unusual.
In a recent interview with the Las Vegas Review Journal, Tyson's wife Kiki stated that one of the champ's major dental dilemmas didn't come from blows inside the ring. In fact, she said, Tyson lost the teeth after being head-butted by his pet tiger, Kenya.
It's too bad Tyson wasn't wearing a mouthguard before he decided to play with kitty.
Fight fans know that boxers always put in a mouthguard before they enter the ring. But the pugilistic pursuit is just one among the two-dozen-odd sports for which the American Dental Association recommends the use of custom mouthguards. Others include baseball, skateboarding, surfing and bicycling. (Maybe horsing around with tigers should be added to the list!)
Why is it so important for participants in athletic activities to use this piece of protective gear? According to the U.S. Centers for Disease Control, sports-related dental injuries account for over 600,000 emergency-room visits each year. Many of these injuries require further dental treatment; some may lead to tooth loss and require costly replacement. Not wearing a mouthguard makes an athlete 60 times more likely to sustain harm to the teeth, according to the American Dental Association. So there's really no contest.
You can find basic, off-the-shelf mouthguards in limited sizes at many sporting goods stores. But for a reasonable cost, we can provide you with a properly fitted dental appliance that's custom-made just for you. Starting with a precise model of your teeth, individual mouthguards are crafted from impact-resistant materials which are designed to be strong, comfortable, resilient — and effective.
Research shows that custom-made mouthguards offer superior quality and protection. So if you or your loved ones like to get out on the playing field, don't neglect this important piece of sporting equipment. And watch out for the cat.
If you have questions about mouthguards, please contact us or schedule an appointment for a consultation. You can learn more in the Dear Doctor magazine article "Athletic Mouthguards."
By Royer Family Dentistry
August 05, 2014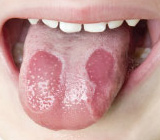 Picture this: You're feeling some mild irritation in your mouth, which seems to be coming from the area near your tongue. You go to the mirror, open wide… and notice a series of red patches on the tongue's surface, which are surrounded by whitish borders. Should you drop what you're doing and rush to get medical help right away?
Sure, a visit to the dentist might be a good idea to rule out more serious problems — but first, sit down and relax for a moment. Chances are what you're experiencing is an essentially harmless condition called "benign migratory glossitis," which is also known by its common name — geographic tongue. While it may look unusual, geographic tongue isn't a serious condition: It's not cancerous or contagious, and it doesn't generally lead to more severe health problems. However, it can make your tongue feel a bit more sensitive, and may occasionally lead to mild sensations of burning, stinging or numbness.
The appearance of reddish patches on the tongue results from the temporary loss of structures called papillae: tiny bumps which normally cover the tongue's surface. These patches may appear or disappear over the course of days — or even hours — and sometimes appear to change their shape or location.
What causes geographic tongue? Several factors seem to be responsible for setting off the problem, but as of yet the actual cause of the disease is unknown. Among these triggers are emotional stress and psychological upsets, hormonal disturbances, and deficiencies in zinc or vitamin B. The condition, which affects between one and three percent of the population, is seen more frequently in non-smokers, in women, and in those with a family history of the problem. It is also associated with people who suffer from psoriasis, a common skin condition, and those who have a fissured (deeply grooved) tongue.
Unfortunately, there is no "cure" for geographic tongue — but the good news is that treatment is usually unnecessary. If you're experiencing this condition, it may help if you avoid foods with high levels of acidity (like tomatoes and citrus fruits), as well as hot and spicy foods. Alcohol and other astringent substances (like some mouthwashes) may also aggravate it.
While geographic tongue isn't a serious condition, it can cause worry and discomfort. That's why it's a good idea for you to come into the office and have it checked, just to make sure. A thorough examination can put your mind at ease, and rule out other conditions that may be more of a concern. We may be also able to help you manage this condition by prescribing anesthetic mouth rinses, antihistamines, or other treatments.
If you would like more information about geographic tongue, please contact us or schedule an appointment for a consultation. You can also learn more by reading the Dear Doctor magazine article "Geographic Tongue."