Posts for: October, 2014
By Royer Family Dentistry
October 29, 2014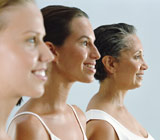 You may think the structures of your face and mouth stop growing when you reach adulthood. That's not true: your skeletal structure, facial features and soft tissues continue to change all through your life, even into old age. In fact, there's as much change from ages 25 to 42 as there is from ages 18 to 25. This fact of continuous growth and change affects the approaches we may take to satisfy your oral and dental needs.
We should especially consider facial changes due to aging as a factor when planning orthodontic treatment. For example, as we age the profile of our face will tend to flatten, which makes our nose become more prominent (and, yes, our noses continue to grow longer as we grow older). A good plan will take advantage of this, especially during expected growth spurts such as right before puberty. As the position of the patient's bite improves through treatment, the continuing growth of their facial profile will continue to bring the angle of the jaw into a more aesthetic position.
Likewise, where there are multiple issues with the mouth and face, orthodontics can be employed with other treatments such as rhinoplasty, the surgical improvement to the shape of the nose, or orthognathic surgery, procedures that correct problems associated with the position and structure of the lower jaw. As we employee these techniques, we keep in mind that the mouth and face are essentially a "moving target" — that is, they will continue to move in the direction of change due to aging. We coordinate the outcomes of treatment to eventually meet up with that eventual growth.
Armed with an understanding of how change occurs during aging, we can coordinate these procedures into a well-timed strategy that actually takes advantage of the aging process. The end result is a more favorable aesthetic appearance for the long-term.
If you would like more information on how aging can affect your dental health and treatment options, please contact us or schedule an appointment for a consultation. You can also learn more about this topic by reading the Dear Doctor magazine article "Understanding Aging Makes Beauty Timeless."
By Royer Family Dentistry
October 14, 2014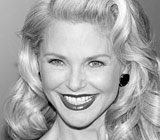 Fracturing back molars is an experience no one ever wants to have. But when a helicopter crashed during a back country ski trip, supermodel Christie Brinkley soon discovered that she had fractured two molars. Fortunately for Christie, her oral health was restored with two dental implants. As she said during an interview with Dear Doctor magazine, "I am grateful for the dental implant technology that feels and looks so natural."
While Christie's dental implants replaced back teeth, we routinely use them to replace both back and the more visible front teeth. But best of all, we have demonstrated expertise at making dental implant crowns look real. This is where we meld science and artistry.
What drives the most natural and beautiful result is how the crown (the visible, white portion of a tooth) actually emerges through the gum tissues. We also match the adjacent teeth identically in color, appearance, shape and profile. But we can't take all the credit, as it takes an entire "behind-the-scenes" team to produce dazzling results. Choice of materials, the laboratory technician (the person who actually handcrafts the tooth), the expertise we use in placing a dental implant crown and the total quality of care we provide are the ingredients necessary for success.
Another critical factor required is ensuring there is enough bone volume and gum tissue to support an implant. Both of these must also be in the right position to anchor an implant. However, if you do not have adequate bone volume, you may be a candidate for a minor surgical procedure to increase your bone volume through bone grafting or other regenerative surgical techniques.
To learn more about dental implants, continue reading the Dear Doctor magazine article "Matching Teeth & Implants." Or you can contact us today to schedule an appointment so that we can conduct a thorough examination, listen to your concerns, answer your questions and discuss treatment options. And if you want to read the entire feature article on Christie Brinkley, continue reading "The Secret Behind Christie Brinkley's Supermodel Smile."