Posts for: February, 2019
By Royer Family Dentistry
February 19, 2019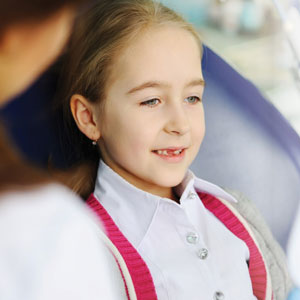 While orthodontists can effectively correct most poor bites (malocclusions), some can be quite complex requiring much time and expense. But there's good news—we often don't have to wait on a malocclusion to fully develop if we catch it in time. Thanks to interceptive orthodontics, we may be able to intervene much earlier and eliminate or reduce the degree of difficulty with treatment.
Interceptive orthodontics is a group of techniques and devices used in early childhood to help deter a possible malocclusion. Here are 3 ways this approach could make a difference in your child's bite development.
Guiding jaw growth. On a normal-sized upper jaw, the permanent teeth usually have ample room to erupt. Not so with a smaller jaw: incoming teeth become crowded and may erupt out of alignment or too close to each other. Orthodontists often use a device called a palatal expander to aid an under-sized jaw in its development. The device fits along the roof of the mouth between the teeth and applies gradual outward pressure on them. This encourages the jaw to widen as it grows, thus providing more room for erupting teeth to come in properly and decrease the chances of obstructive sleep apnea in the future.
Reshaping and repositioning jaw bones. An overbite can occur when the jaws aren't properly aligned, often due to poor muscle and bone development. This is where devices like the Herbst appliance are useful. Its hinge mechanism encourages the lower jaw to grow further forward. The jaws can thus develop in a more normal way, minimizing the development of a malocclusion.
Maintaining space. Primary ("baby") teeth are important for dental development because they help guide future permanent teeth to erupt properly; they also keep nearby teeth from drifting into the intended space. But when a primary tooth is lost prematurely due to disease or trauma, the space can become vulnerable to this kind of "drift." With a simple mechanism called a space maintainer we can hold open the space created by a prematurely lost primary tooth until the permanent tooth is ready to erupt.
These and other techniques can help stop bad bites from developing in young children, minimizing or even eliminating the need for future orthodontic treatment. That means a healthier mouth for your child and less impact on your wallet.
If you would like more information on interceptive orthodontics, please contact us or schedule an appointment for a consultation. You can also learn more about this topic by reading the Dear Doctor magazine article "Interceptive Orthodontics: Timely Intervention can make Treatment Easier."
By Royer Family Dentistry
February 09, 2019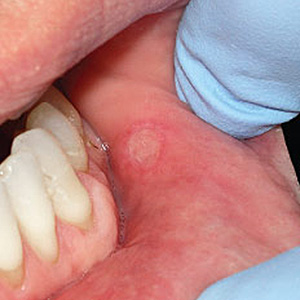 Canker sores, known medically as aphthous ulcers, are fairly common among people. Lasting for about a week or so, these mouth sores are usually more irritating than painful. But about a quarter of the population, especially women, frequently suffer from an acute form that doesn't often respond well to over-the-counter remedies.
A typical canker sore is usually round with a yellow-gray center ringed by a reddened "halo." They can be preceded by tingling or painful sensations at the site a few hours or so before breaking out. Recurrent aphthous stomatitis (RAS) is the more severe form of canker sore, often with outbreaks of multiple painful sores. While the more common sore is usually less than a centimeter in diameter, RAS sores are often much larger.
Canker sores often arise during periods of stress or anxiety, and seem to be connected with eating certain acidic foods like tomato sauce, citrus fruits or spicy dishes. RAS also seems to be related to underlying systemic conditions like vitamin deficiencies, anemia or digestive disorders. Besides managing diet and stress, people with regular canker sores and milder cases of RAS can often find relief with non-prescription numbing agents often found in stores and pharmacies.
For more severe RAS, though, you may need the help of your dentist or physician with treatments like prescription steroids or other medications that come in gel or rinse form or through injections. The goal of any treatment approach is to decrease pain severity and shorten healing times after an outbreak.
While most mouth sores, including RAS, aren't dangerous to your health, you should still take any sore seriously. You should especially seek medical evaluation if a sore doesn't heal after a couple of weeks, if they seem to come more frequently and are more severe, or if you don't seem to ever be without a sore in your mouth. These could indicate a serious underlying problem that needs to be addressed.
One thing's for sure: there are ways to ease your suffering if you have frequent bouts with regular canker sores or even RAS. Talk to your dentist about ways to minimize your discomfort from these irritating mouth sores.
If you would like more information on aphthous ulcers or canker sores, please contact us or schedule an appointment for a consultation. You can also learn more about this topic by reading the Dear Doctor magazine article "Mouth Sores."